ULMA Packaging Automation
ULMA Packaging Automation is a division within the ULMA group which specialises in projects focussed in applications which constitute the definition, design and implementation of "Integrated packaging solutions for fresh food applications".
Project applications can range from single automated machines were the application requirement is to load and unload a packaging machine right through to complete factory solutions providing turnkey automated production lines.
The Automation division of ULMA Packaging supplies PROJECT MANAGEMENT as an important part of the solution to control the entire project with production lines and elements to be integrated.
Using one company to fulfill the requirements of complete production lines has the following advantages:
• One project manager responsible in front of the customer.
• Design adapted to each customer specific requirements.
• Complete integration of the automated line and any existing equipment.
• Optimization of the functionality and performances of the global solution.
• Simple and centralized operation of the complete line.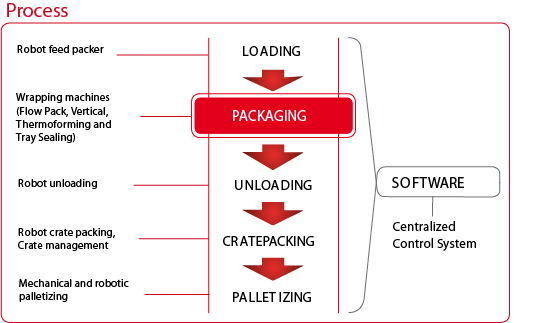 An space of 2500 m2 allow to create the assembling and solutions of complete automation lines for FAT before the final installation in the customer site. An additional 4000 m2 production plant of stainless steel welding and assembling, supplies the elements to create the defined solution.
The human group that is leaded to the customer, is composed by specialists to design and create specific solutions for Food Technology.

Next: ULMA Robots