Cold cooked meats supplier PG Amps invests in new ULMA thermoformer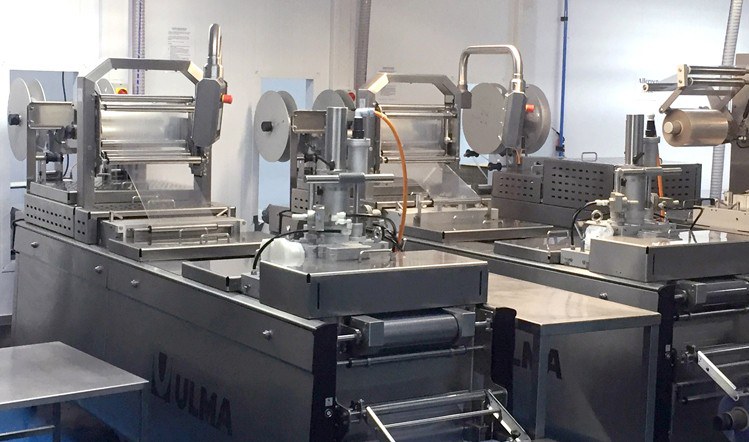 To meet a significant increase in demand, a leading supplier of cold cooked meats, PG Amps, has just purchase another thermoforming machine from ULMA Packaging.
Renowned for excellent build quality, equipment performance and service, ULMA Packaging has been supporting the customer's growth with packaging solutions for almost 20 years and had already recently supplied Supra and TFS 300 thermorformers to PG Amps' Wisbech facility.
 Acquiring a third TFS Thermoformer has enhanced PG Amps' packaging capability even further, allowing the firm to cope with a 55% increase in production of its sliced meat products, whilst retaining the flexibility to respond to customers' ordering patterns. 
 The new TFS 300, a model which meets the requirements of SMEs such as PG Amps for high output with a compact footprint, is reliably packing 200g and 400g trim trays of sliced ham, beef, pork, turkey and chicken for major food outlets such as delicatessens, discount stores and convenience shops. 
 Suitable for a variety of fresh food, the equipment's MAP (modified atmosphere) technology ensures product quality throughout shelf life for items including fish, poultry, cheese and patés.
 PG Amps owner, Peter Amps, said, "ULMA's thermoforming equipment has played a huge part in the growth of our business. When we decided to modernise and upgrade the packaging operation to keep up with increasing demand, ULMA was our first choice. From experience, we know their equipment is robust, reliable, easy to operate and importantly, very easy to maintain."
 Improved productivity, the latest thinking in hygienic design and reliability - resulting in less manual intervention - are hallmarks that encourage customer loyalty. Amps, who founded his meat manufacturing business supplying cured hams in 1991 before expanding into other cuts in the mid 1990s, purchase his first ULMA thermoformer from the mini-series range in 1998 and has remained loyal to the Worksop firm ever since.
 He commented: "With equipment and services to such a high standard, ULMA is always our number one choice. Additionally, we are a family business and as such identity the importance of having a strong relationship with the supplier. We feel ULMA understands this and if we do ever need their help, they are always quick to respond."
 ULMA's ongoing investment in technology and people plus a commitment to provide value for customers is the philosophy behind being part of a co-operative and it's this ethos which allows PG Amps to operate without a dedicated engineering resource, as it knows ULMA can service and support the machines with a local technician from their UK wide team.
 Not just known for its ability to supply all-round packaging solutions, ULMA offers a full after sales support service giving its customers peace of mind that production lines can be maintained effectively and businesses run smoothly and efficiently.