Free-from Complications: Vegan Chocolate Supplier Finds Its Packaging Match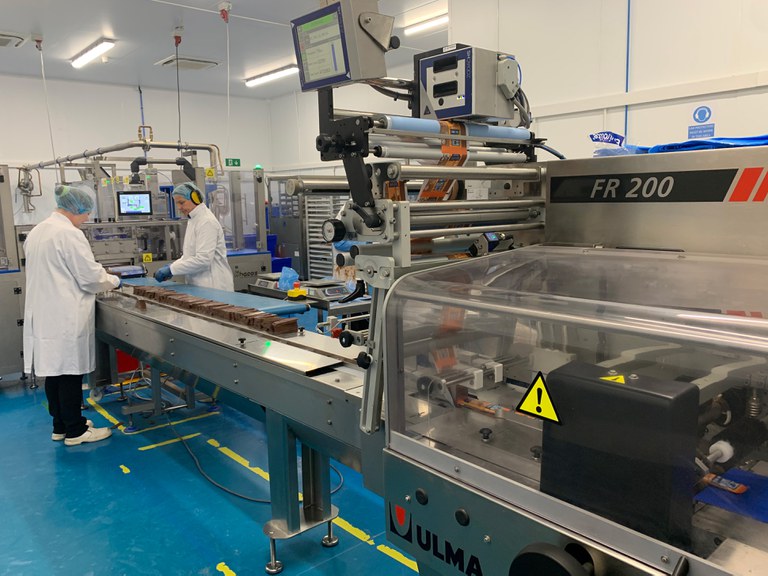 When dairy-free and vegan chocolate supplier Moo Free's previous packaging machinery needed replacing, following years of use, their operations department began the search for an alternative solution that could increase productivity while maintaining the company's all-important sustainable practices. With a must-have list of criteria in hand, the team contacted ULMA Packaging UK, resulting in the purchase of the innovative FR 200 flow pack wrapper.
Based on Devon's southwest coast, Moo Free is a leading, family-run supplier of free-from chocolate. Renowned for its dairy-free product ranges, which are also free from wheat, gluten and soya, the company was established in 2010 and caters to mainly vegan and vegetarian customers shopping at major supermarket retailers.
As an environmentally friendly company, Moo Free uses non-single-use and recycled plastics for packaging alongside paper, to ensure zero waste to landfill. Key to achieving this goal while supplying products on a large scale is Moo Free's sole packaging machine, but following years of continuous use, the unit had become increasingly unreliable. Specifically, the machinery could no longer wrap the desired amount of chocolate without continued supervision to keep unplanned downtime to a minimum. But with the machine becoming obsolete and sourcing component parts proving difficult, a decision was made to source a replacement.
Performance Problems
Marcus Woods, Operations Manager at Moo Free explained: "Though our packaging machine was vital to our daily operations, it was becoming clear that it could no longer pack the necessary amount of products without quite a lot of ongoing maintenance. Its performance was highly variable too. On a good day, it could only produce up to 72 bars a minute, and a common issue we faced was that the film would move out of place during production, causing products to be wrapped incorrectly. "Whenever this occurred, we would have to shut the machine down to correct it, which lost valuable time and led to wasted products. The situation was far from ideal, and this, combined with replacement parts becoming increasingly difficult to source, were the major reasons we started searching for an effective replacement."
Selecting Solutions
With the organisation's engineering team already familiar with ULMA Packaging thanks to word-of-mouth, the decision was made to reach out the machinery supplier to discuss requirements. Moo Free's prioritisation of sustainable practices meant that any potential new machine needed to be compatible with recycled and recyclable materials, including paper. Packaging used by the company must be capable of preserving products for as long as possible, while an odourless material is required to avoid transferring any smell to the chocolate, which can easily absorb aromas that can affect the overall taste. Similarly, as Moo Free creates a wide range of product sizes and shapes, the machine also needed to be adaptable to ongoing changes, including periods of soaring seasonal demand around Easter and Christmas. With these requirements in mind, the ULMA team recommended its market-leading FR 200 horizontal flow pack wrapper. Nick Ghent, Regional Sales Manager – Non Produce, South West and Ireland at ULMA Packaging UK, explained: "When Moo Free told us their needs, it became clear that the FR 200 was the perfect machine for them. The recurring issue of film becoming misaligned was clearly a concern and something we needed to resolve. "The FR 200 was able to resolve this problem using three simple steps. The first was the motorised unwind on the film reel holder – this maintains the correct tension in film at all times and is especially useful with more tricky and quite often newer sustainable films. The second was the easy-to-thread double adjustable folding box, which offers full flexibility as well as ease-of-use to help the operators thread it through properly.
"Finally, as the FR 200 has three pairs of rollers for longitudinal film pulling and sealing, it is ideally suited to correct this kind of problem and will therefore keep the film in position. Thanks to the machine's design, the material will stay in place for the whole roll, drastically reducing the amount of waste and downtime that was hampering Moo Free's operations."
The possibility of cross-contamination is a constant and ongoing concern for organisations that work in the food industry due to potential consumer health risks. Consequently, strict sanitising and safety measures are essential requirements for companies such as Moo Free if product integrity is to be ensured. With this in mind, the FR 200 flow wrapper's cantilever construction allowed company staff easy access for routine sanitation and cleaning. Similarly, the machine's 7" touch-screen Human Machine Interface (HMI) also made changing parameters simpler, which was vital to ensuring the FR 200 could be reconfigured to suit Moo Free's wide range of products.
Installation and support
As part of the selection process for the flow wrapper, Moo Free travelled to ULMA's Sheffield headquarters to carry out test runs using the company's chocolates. As Marcus explains: "Being able to test the machine beforehand, to see if it was capable of handling both our products and the recyclable plastic films and paper packaging we use, was key to the company's decision-making. The ULMA team were extremely helpful throughout the process, from testing through to installation. Packaging is such an important aspect of our production line, so we have to suspend operations during any installation work.
"Of course, this downtime, even when planned, can hugely impact a business, and I expected at least a week of disruption when fitting the FR 200. However, the ULMA team were very quick and efficient, meaning we were only offline for half a day in total, which was a nice surprise and greatly appreciated. With the machine now up-and-running, I'm also reassured by the fact that ULMA is able to offer speedy maintenance support to our Devon facility, as and when required. As a region, the South West can sometimes be underserved in this area, so the fact service personnel are able to be at our site quickly, and when needed, is a huge plus."
With the new FR 200 now fully operational, Moo Free is benefitting from the increased productivity it offers. Specifically, in comparison to the previous machine's peak running speed of 36 packs per minute (ppm), the ULMA solution is able to achieve rates of up to 110ppm and usually operates at 80ppm, resulting in much greater output. Similarly, the need to constantly stop the old model to realign the film – a problem that Marcus estimated was contributing to five percent of each day being lost to unplanned downtime – has been negated. Instead, the FR 200 is only taken offline to replenish film reels, markedly reducing any disruption to site processes.
Marcus concluded: "Throughout the process of first contacting ULMA to the eventual instalment, I cannot fault the service we received, and the FR 200 has really helped transform production. Also, whenever we had any issues or questions, the team were always on hand to respond without delay. This ensures we get the best from our new flow wrapper, which has already become a crucial part of our ongoing operations. If and when we require any additional packaging machinery, I would not hesitate to return to ULMA."