Packaging is a piece of cake for Fiona Cairns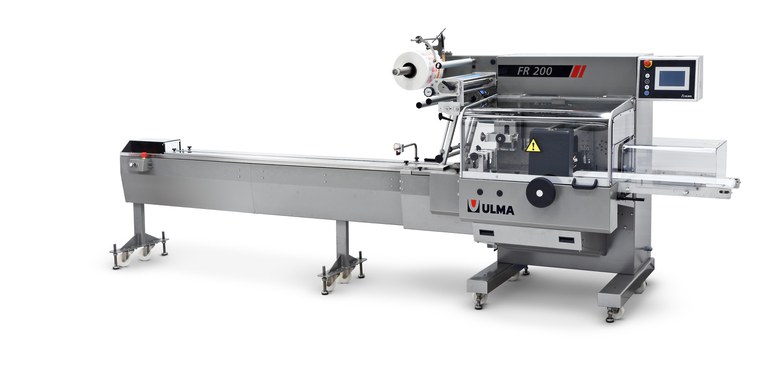 Reliability, versatility and confidence in after-sales service were the key ingredients that helped ULMA Packaging stand-out from the crowd for luxury cake manufacturer.
Fiona Cairns Ltd, a family-run business making over two million cakes every year from its state-of-the-art bakery near Leicester, counts retailers such as Harrods, Fortnum & Masons, Selfridges, Waitrose, Bon Marché and Dunnes among its customer base.
To meet growing demand the company required robust packaging machinery that could wrap a range of different shaped products, while at the same time offering the shelf presentation that matched the luxurious quality of the handmade products, which included tiered wedding and celebration cakes as well as teatime treats and favourites.
ULMA is a major provider of automated packaging equipment suitable for a wide variety of bakery items, from fairy cakes to bread rolls and cereal bars to biscuits, morning goods and snacks. It offers automated product handling and grouping for packaging, cartoning, boxing and crating, whether for small or medium-sized operations, or high volume production levels.
After close collaboration with Fiona Cairns over its needs, ULMA supplied the Florida flowrapper, a popular entry level horizontal form fill and seal machine, which is ideal for bakeries as it is flexible, easy to operate and maintain. The Florida has touch screen operation with multi-product memory for quick changeovers at the press of a button. The machine also benefits from 'no product - no bag' and 'misplaced product detection' systems, as well as working with clear and printed film.
Kishore Patel, managing director at Fiona Cairns, said: "We chose the flowrapper because it is very reliable and versatile equipment - plus ULMA has an excellent reputation for after sales service. The machine is working very well. It is so flexible and easy to operate we can use it to package products for all our customers."
Retailers are demanding that suppliers in the bakery industry not only have packaging systems in place that protect the integrity of goods and offer excellent presentation, but can also accelerate the process of getting them to stores as well as prolong shelf life.
One of the major issues in the bakery sector is the sheer number of products involved and the perceived need for flexibility to change pack runs quickly and easily during production. Equipment suppliers should work closely with bakers to achieve the desired results of reliability, efficiency, ease of use and hygiene.
From handmade luxury wedding cakes to wrapping loaves of bread to bagging pastries, many bakers are turning to ULMA's flexible, automated systems that can safely pack a whole range of different shaped products in any configuration, while at the same time maximising visibility on retailers' shelves.
 In addition to providing a fully flexible solution, pre-printed roll stock film can be used to make bags, which can subsequently be labelled and coded immediately prior to flowrapping. This facilitates labelling to flat film – avoiding uneven or wrinkled surfaces after wrapping thus enhancing the pack appearance.
Innovative ULMA flow wrapping technology – backed up by a complete spares and service support back-up – offers the bakery industry equipment and fully integrated solutions that are future proof, highly productive and efficient to meet the growing demand from retailers for extended shelf life, great commercial visibility and speed to market.