ULMA Earn Their Crust with Seamless Machine Installation
Deep-fried pizzas are a culinary favourite for fast-food lovers around the UK, and Argo Foods (Argo) provides this popular dish to a variety of customers, including takeaways, chip shops, convenience stores and retailers.
The Glasgow-based supplier requires an extremely tight turnaround when producing and packaging pizzas, with the morning shift used to make three varieties of the tasty product, and the afternoon set aside for boxing up and delivery to customers. As such, there has traditionally been a lot of pressure on Argo's packaging machinery to ensure the process runs smoothly. 
Seeking a replacement
The company had previously used a Gemini flow wrapper from ULMA Packaging to package its pizzas in plastic, which then go flat into pillow-packed boxes of 24 for distribution. This pillow-packing and flat-packing is key for health and safety reasons, as the individual pizzas cannot come into contact with one another.
However, after over twenty years of loyal service, the Argo team decided in March 2020 that it was time to upgrade its packaging machine for a new solution. Ian Gray, Company Director and Engineer at Argo, said: "Our old Gemini machine had performed well over the years but, due to gradual wear and tear, it had come to the end of its life. I contacted ULMA, because continuity was important and I needed something that I would know for certain could guarantee similar levels of performance, and the FR 100 provided that." 
An instant upgrade
A horizontal flow wrapper (HFFS) that makes a three sealing pillow pack, the FR 100 is an attractive solution to both customers taking their first steps into flow pack packaging, and more experienced companies such as Argo. Its compact design makes it ideal for the small-scale production required by Ian, alongside other benefits, as Ed Williams, Sales Director at ULMA, explains: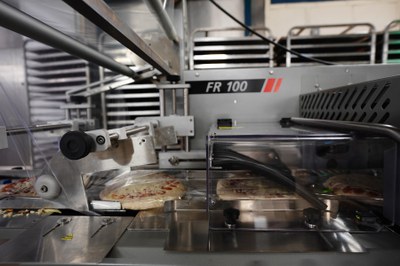 "The FR 100 is an upgrade on the Gemini that Argo were using, and considering the company's needs – fast, reliable, and efficient packaging – this choice was a perfect fit," says Ed. "For example, the 'no product-no bag' function has allowed Argo to save on plastics, as the line stops if there are no pizzas on it, and the FR 100's ergonomic design means it is very easy to clean, which is a must in the food industry.
 "It also allows for more variable speeds than the Gemini, which is a helpful feature when processing pizzas of varying weight or at times when further packaging capacity is required."
Seamless transition
With the takeaway and food retailer markets experiencing skyrocketing demand during the pandemic, it was key that any downtime was kept to a minimum when replacing the old Gemini. Indeed, the popularity of deep-fried pizzas during lockdown meant that Ian was at absolute capacity and needed the new machine to be installed quickly.
Ian said: "We ran all the way through lockdown with demand continually increasing, and as the Gemini machine was nearing the end of its lifecycle it was important to get the FR 100 up and running as quickly as possible. ULMA's engineers provided an excellent level of service throughout installation – this needed to be done in the morning, ahead of packaging in the afternoon.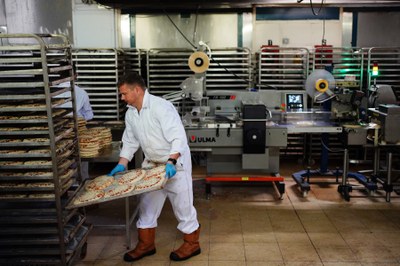 "We were able to put the new machine in and take the old one out over a morning, which was really impressive. We can't afford to have pizzas waiting on racks as they might go stale, so we were relying on ULMA to complete the switchover within the time specified, which they did." 
High-quality service
The ULMA team remained on-site for two days following installation to demonstrate to Ian and other staff how to use and maintain the FR 100, adopting social distancing measures throughout. The fully operational machine now packages 55 pizzas per minute, with Argo personnel manually handling finished products and placing them into boxes for distribution and delivery.
Ian concludes: "It's mainly my responsibility to keep the machinery going, and ULMA's engineers were very open and helpful when it came to showing how to keep the FR 100 running. Indeed, it was the consistency from the ULMA service team over the twenty years I've worked with them that led me to continue with the company when it came to purchasing a new packaging solution.
"If ever I needed a new part or something resolved, they were always available over the phone to go solve my concerns, and that's something that's very important to me. After all, it's not just about price points and build quality when you purchase a machine – after service is also a crucial part, and they have definitely taken a lot of pressure off me in that regard."