ULMA Packaging's support is icing on the cake for bakery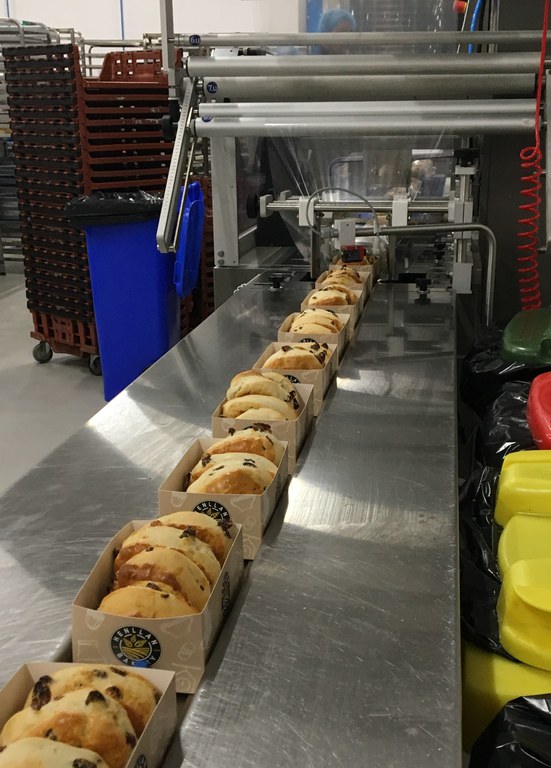 Established in 1908 and owned by the Moore family for over a century, Henllan Bakery produces and supplies a wide variety of breads, pies, pastries, cakes and treats.
Each morning, Henllan's fleet of delivery vans leave the company's site in Denbighshire, North Wales to ensure freshly baked goods are on the shelves of some of the UK's biggest supermarkets. Over the years, growing demand for locally-produced food has resulted in significant growth, with the bakery now employing over 90 staff. As a result, Henllan Bakery needed to open a second, state-of-the-art bakery adjacent to its existing Denbigh premises to further increase its cake and confectionery production capabilities.
Robust packaging solution
However, boosting production was only one part of the challenge, as in order to be sold to the customer, the new baked goods had to be packaged appropriately. For Henllan Bakery, this made investing in a new and reliable packaging solution absolutely essential.
Furthermore, Henllan Bakery had entered a growth period, and was keen to diversify the range of products it could supply. Opening a second bakery was key to this aim, and the cakes and confectionery produced at the new facility needed to be flow wrapped on acetate trays, with new packaging machinery required to facilitate this. With that in mind, the company approached ULMA Packaging UK for an efficient, innovative packaging machine for their new facility.
A high level of support and aftercare was also important considerations in the company's choice of machine. Henllan's clients require a constant supply of freshly baked goods to sell to customers, so it would be vital that the machine remained in peak working condition to meet daily orders. Any downtime would make meeting these deadlines more difficult, so a responsive, supportive supplier was also a must.
"I cannot stress enough about the importance of a strong supplier relationship," said Tom Moore, Production Director at Henllan Bakery. "We not only needed a well-designed packing machine, but also a high level of professional aftercare that would enable us to meet our targets.
"Furthermore, any machine provided for the new facility would need to be versatile, to allow us to keep up with production, efficiency and consistency demands."
High-performance flow pack wrapping
With these priorities in mind, Tom explored potential packaging options with Paul McMahon, ULMA's Business Manager – Machine Sales. The specification process involved considering the size and dimension of items that would be packed at the new bakery. Paul also visited Henllan Bakery's site in Denbigh to view the company's pre-existing product packaging processes.
Following this important step, Paul recommended the FR200 Horizontal Flow Pack Wrapper. Designed for fast packaging speed, the FR200 is equipped with a rotary cross-sealing jaw station and innovative motion control technology.
Paul commented: "The FR200 is a very versatile machine that is specifically suited to packaging Henllan Bakery's products. It is a robust, high-quality and fully-proven solution, with three pairs of rollers allowing for longitudinal film pulling and sealing in a left-to-right operating direction.
"The FR200 features motion control technology, including a control based on an industrial PC that provides the machine with the capabilities of higher-level models. Its touch screen panel lets the operator simply set parameters such as speed and allows for quick alarm identification. These characteristics, together with its ease-of-use and overall construction strength, ensure the FR200 satisfies the needs of a wide range of applications, including those required by Henllan Bakery."
Machine training
The FR200 was first installed at Henllan Bakery's original site two months before the opening of the new facility. This allowed the company to familiarise themselves with the new machine and enjoy the production benefits it offered while the second bakery was being built.
As part of the installation, Henllan Bakery machine operators and maintenance personnel were invited to ULMA's Dinnington headquarters and shown how to operate and look after their new equipment. Once the second bakery was complete, the machine was transferred across and ULMA delivered refresher training to ensure the transition was as smooth as possible.
Excellent aftercare
ULMA's aftercare has been impeccable," Tom commented. "We are pleased with the aftercare received, and the continual training to understand how the machine works and how to change the setting for new products.
"Our ULMA representative has gone above and beyond to ensure that we are happy with the running of the machine on a day-to-day basis. Any downtime is quickly resolved, and the machine is back up and running with little time lost as possible."