ULMA Packaging wraps up Lincolnshire Field Products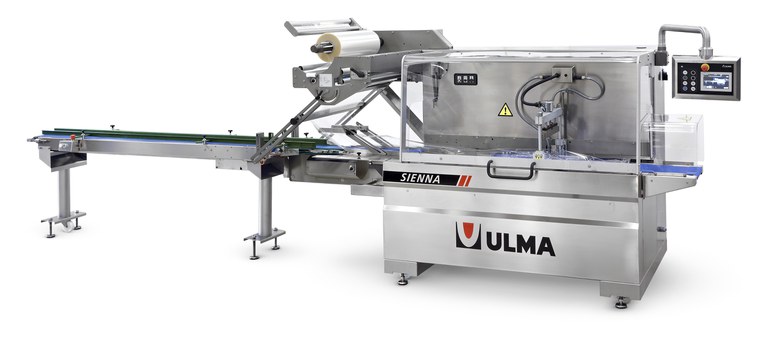 An award-winning vegetable grower is reaping the benefits from investing in horizontal flow wrappers from ULMA Packaging Ltd, which have been specifically designed for the fresh produce sector, bakery, confectionery, snacks and general food markets.
Lincolnshire Field Products, winner of the vegetable grower of the year award in 2012 and a supplier of fresh produce to several high street supermarkets, has reported major productivity improvements at its 6,500ha farm in Spalding after purchasing the FR305, along with ULMA Packaging's Sienna LSBS box motion machine.
ULMA's FR305, one of the latest developments from the innovative manufacturer, incorporates a rotary jaw, a streamlined simple to operate console and an ergonomically designed cantilever to reduce debris accumulation, making cleaning and sanitising far easier.
This model, which is currently flowrapping pre-pack courgettes at up to 40 ppm for Lincolnshire Field Products, has been built around a state of the art PC processor which stores up to 99 different packaging profiles, enabling a high level of flexibility for different product changeovers.
Key features include two independent motors which are synchronised electronically, easy service access and left to right operating direction. The standard in-feed conveyor is two metres in length, which is suitable for most food applications. However, ULMA Packaging can also offer bespoke options, for those packaging unusual sized products, making it ideal for all types of vegetables.
Meanwhile, ULMA Packaging's Sienna LSBS flow wrapper, developed entirely for the flexible wrapping of various products, was also purchased by Lincolnshire Field Products for packing its range of whole cauliflowers.
The Sienna features ULMA's renowned robustness, versatility, efficiency, and ease of operation. Its sealing head is powered with an independent motor and comes with a touch screen control panel. It is available in both flowrap and shrink wrap versions for loose, irregular shaped products in polypropylene or polyolefin films.
The Sienna is currently wrapping around 30ppm of whole cauliflowers and is money well spent according to Lincolnshire Field Products operations manager Steve Bates.
He said: "We did look at what was on offer from other equipment suppliers but they could not match ULMA for reliability, cost and service. Flexibility is key ingredient at Lincolnshire Field Products and that's what ULMA's machines also give us. The reliability of the FR305 and Sienna is amazing and we have seen significant cost and production benefits since having them installed."  
In addition to single equipment pieces, ULMA Packaging can also stream together stand-alone packaging machinery with the automation side of the business to provide customers with one single point of technical and sales contact. This means that ULMA customers can now be offered one of the largest packaging solution choices available anywhere in the UK.
ULMA has a long and impressive background in the fresh produce arena – its customer service is second to none according to Mr Bates – for the packaging of a cross-section of products including tomatoes, potatoes, onions, mangos, avocados, oranges, lemons and even kiwis.