ULMA's packaging equipment is perfect for R&G Herbs in growing market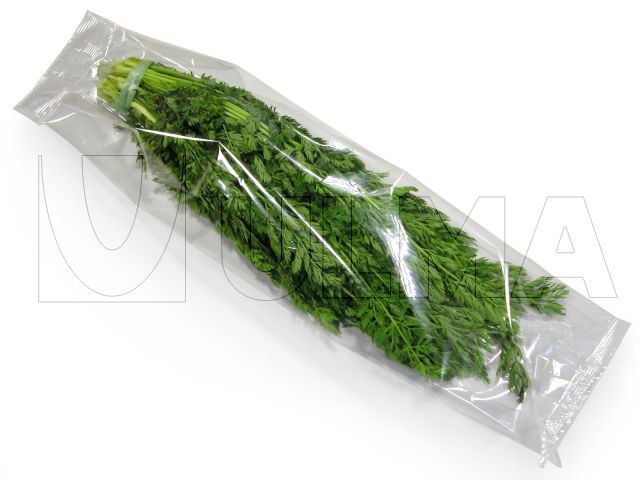 A shift away from synthetic flavours in cooking, and increasing customer demand for British grown produce, has resulted in a major investment by a leading UK supplier of fresh herbs in equipment from ULMA Packaging Ltd to help boost production.
Family-run business R&G Herbs is expanding rapidly due to the increasing popularity of fresh herbs. To keep pace with demand, the company invested in a customised Sienna bottom reel flowrapper from ULMA to pack a variety of herbs it supplies to supermarkets, major restaurants, wholesalers and foodservice customers.
R&G Herbs, which counts Waitrose and Ocado among its client base, specified a robust packaging solution that could accurately wrap different-sized packs of herbs, such as rosemary and chives, quickly with the minimum of downtime.
In a successful collaboration with R&G Herbs' production team, the Sienna horizontal flowrapper has been supplied by ULMA with a Euro slot for bunched herbs in a printed film pack. It has also been fitted with a Markem thermal coder and Herma labeller.
ULMA's proven reliability and innovative technology was well-known to R&G Herbs' Production Manager, Jason Webb, who said the equipment was currently wrapping 65 packs of herbs per minute at its Woking site and had delivered several cost-efficiencies in a number of areas, including speed and reducing manual changeovers.
He added: "We needed a flowrapping machine to help us keep pace with the high demand for our herbs. After comparing equipment suppliers I was sold on the quality of the machine from ULMA. The back-up service has also been excellent – I can't fault them."
Available in both flowrap and shrink wrap versions for loose, irregular shaped products in polypropylene or polyolefin films the Sienna is ideal for fresh produce. It has a touch screen operation with multi-product memory which means that changeovers can be made quickly and simply at the press of a button. The machine also benefits from 'no product - no bag' and 'misplaced product detection' systems, as well as working with clear and printed film.
The box motion type cross sealing station is provided with 400mm wide jaws. The sealing head is equipped with an independent servo motor for a high level of flexibility and optimises the cycle time to produce a minimal pack length in the shortest time possible.
Retailers are demanding that suppliers in the fresh produce industry not only have packaging systems in place that protect the integrity of goods and offer excellent presentation, but can also accelerate the process of getting them to stores as well as prolong shelf life, which is what ULMA has been able to deliver.
ULMA is a major provider of flow wrapping equipment and complete automated lines for a wide variety of food sectors from herbs, vegetables and fruit to bread rolls, cereal bars, biscuits, cakes, morning goods and snacks. It offers product handling and grouping to packaging, cartoning, boxing and crating, whether for small or medium-sized operations, or high volume production levels.
Innovative flow wrapping technology – backed up by complete spares and service support –- offers fresh produce suppliers equipment that is highly productive and efficient to meet the growing demand from retailers for speed to market.